Most OTC stocks to watch have been moving sideways after a wobbly week. Even though the main OTC stock index, OTCQX Composite, has recently hit its record high, there is still more room for growth. OTCQX is likely to follow major indexes, and they are expected to increase following strong earnings to be reported soon.
UBS chief US equity strategist Keith Parker told clients:
"Significant upside to earnings should more than offset the challenges from valuation headwinds."
This is a great time to invest in penny stocks, as the US and the global economy is gradually recovering from the devastating impact of the COVID-19 pandemic.
Nevertheless, even during a recovering economy, you can't generate huge returns with blue chips given their massive market cap. One option would be to use leverage, but it is risky, and there are few brokers and trading instruments that allow leverage on major stocks.
Elsewhere, there are penny stocks with robust fundamentals that are trading at bargain prices, and we're here to bring them to light.
Generally speaking, trading OTC stocks is much easier than getting exposure to blue chips. You don't need a big account, and it's technically extremely easy to make the first steps. All you need is a laptop and a brokerage account.
Nevertheless, you should keep in mind that small-cap stocks are subject to enormous volatility like what we have witnessed in the February-April period.
Also, remember these two important points when it comes to investing in small caps.
Buy low and sell high.
Don't be afraid to book profits.
However, don't rush to book profits too early.
Finding the right balance is not that difficult if you're not getting too greedy and stay disciplined.
If you watch the Insider Financial YouTube channel, you can get a sense of the ideal time to book profits. We warned our subscribers not to get greedy or get caught up in the diamond hands/paper hands BS.
The key to trading small caps is finding momentum BEFORE it happens and then be patient. Now, when we say that we find momentum BEFORE it happens, we are investors looking to position our subscribers BEFORE the move happens.
It's also best to own a portfolio of small-cap stocks. For some that can be as many as 10 to 20 or more OTC stocks. Obviously, our recommendation to build a portfolio means that day trading is not an option for us. Day trading doesn't suit our personality, and we don't like the intraday moves markets make. We have found we made more money being patient and ignoring the day-to-day noise of the markets.
We always alert our subscribers first before we publish for our regular readers. This is the value of having a subscription to Insider Financial, which you can sign up for here. We alert our subscribers with our best ideas before our regular readers.
In the present report, we're about to discuss 4 OTCstocks to watch: AppYea, Inc (OTCPK: APYP), Eline Entertainment Group, Inc (OTCPK: EEGI), Digihost Technology Inc (TSXV: DGHI; OTCQB: HSSHF), and Thai Airways International Public Co (OTCMKTS: TAWNF).
OTC Stocks to Watch APYP
AppYea, Inc., is in bullish mode these days, but the penny stock community expects it to thrive in the coming months, as it is about to acquire SleepX Ltd. and launch a new product through its new subsidiary. At the time of writing, APYP is trading at $0.0042, up 180% during the last few days. At the end of February, the penny stock surged to one cent, but it quickly dropped to previous levels.
This development stage firm focuses on the acquisition, purchase, maintenance, and creation of mobile software applications. Besides this, it markets diagnostic testing services to physician offices, clinics, hospitals, healthcare groups, and other healthcare providers, through its wholly-owned subsidiary The Diagnostic Center, Inc.
While AppYea's website update is still in development, and the company hasn't provided further updates about the merger with SleepX, it is expected to surge once it clarifies its relationship with the Israeli company producing DreamIT X3 – a patented anti-snoring device that communicates with the smartphone. SleepX has high expectations of its product, which will be delivered to buyers in the first quarter of 2022.
When the wristband device detects any irregular breathing patterns or snoring, it vibrates mildly not enough to wake the subject, but just enough to induce them into a lighter sleep phase. After repeated use, the device trains the brain to breathe properly.
$APYP to be clear, the new sleep x device is intended to be an alternative to the CPAP machine as well as to cater to less severe sleep disorders, such as chronic snoring or insomnia. This device can appeal to most, and is affordable, no need for a prescription either!

— Matt M (@Matthew38110846) May 16, 2021
The device will be sold for $149 but can be pre-ordered for $100 as of today.
We think APYP investors should hold the penny stock for the coming months, as there is some great opportunity about this company, especially when it incorporated two new subsidiaries that focus on blockchain and the cannabis industry, respectively.
OTC Stocks to Watch EEGI
Eline Entertainment Group, Inc. has been on an uptrend last week, but is now correcting. The penny stock fell from $0.0098 on Monday, which coincides with the highest level year-to-date, to $0.0044 on Tuesday.
Eline Entertainment used to provide education services via its subsidiary Graystone Education, Inc. However, nothing had been heard of it for years.
Nevertheless, the community is bullish as it finds connections between Eline and Xtreme Sports Marketing, Inc. – a global sports and entertainment marketing agency that brings athletes, celebrities, and brands together. Its services include sports marketing, endorsements, event production, sponsorship, social media strategy, performance monitoring, celebrity strategy, and more. It has worked with giants like Sony, Red Bull, Universal, NBC Sports, and Valvoline.
$EEGI This is huge – Look at the names involved.https://t.co/Plahb0hWtS pic.twitter.com/cYWiIUpgkn

— Bullrider (@TYWONHOLDINGS) May 10, 2021
EEGI CEO is Joshua Egelston, who is also CEO of Xtreme Sports and COO of Xtreme Organics. It seems that Egelston has been named EEGI CEO only recently, and he has great experience at managing companies and turning them into lucrative businesses.
$eegi I like it! Do you? https://t.co/6DJzlsNrYX

— Alexander Delarge 655321 (@AlexDelarge6553) May 14, 2021
Still, there is no official update from any of the two companies.
The community is also discussing a potential reverse merger between EEGI and X Stream Channels, Inc. which was registered recently by Joshua Egelston.
(1/9)

The following is a story containing what we know regarding the X Stream Channels and $EEGI merger. pic.twitter.com/nTIK2zOZVf

— WildRhino (@WildRhino) May 16, 2021
While there is no official announcement, we think it's worth looking at EEGI at this low price, because any official news connecting EEGI with one of the Xtreme companies can boost its price.
OTC Stocks to Watch HSSHF
Digihost Technology Inc., which operates as a blockchain technology firm and a Bitcoin miner, has been on the rise during the last few days. The penny stock is now trading at $2.18, up from $1 five days ago. HSSHF hit its YTD peak at the end of February at $4.45. With a market cap of over $140 million, Digihost is much larger than the previous two companies from today's list.
Formerly known as HashChain Technology Inc. it got the new name in February last year.
Digihost plans to expand its Bitcoin mining operations, which bodes well for the penny stock price.
Despite the recent correction caused by Elon Musk's position on Bitcoin, the cryptocurrency market is doing great. Bitcoin and altcoins are expected to come even stronger following the slump.
Previously, thanks to the price surge, Bitcoin miners generated the highest revenue on record in March and April, even though the mining difficulty index surged to a record high. In April, miners secured $1.7 billion in revenue, slightly down from $1.75 billion in March.
HSSHF is expanding its mining operations at the right moment. Last week, Digihost announced that it was buying 9,900 BTC miners to increase its hashrate from 925PH to 1.145EH.
Digihost CEO Michel Amar said:
"Accelerating the Company's combined hashrate to more than 1.145EH by the end of this year, which could result in approximately US$80 million of operating profit in 2022, based on current Bitcoin metrics, is a significant accomplishment for Digihost as we continue to evolve as a leader in the cryptocurrency mining sector."
Digihost is also in the advanced stages of the application process for a listing of its stock on the Nasdaq Stock Exchange. Meanwhile, it will file a registration statement with the Securities and Exchange Commission. This demonstrates that the company has strong fundamentals.
On Monday, May 17, Digihost said that over 90% of its energy consumed in BTC mining operations generates zero carbon emission, and over 50% of the energy is generated from renewable resources. Thus, investors won't turn their back on the company following the ongoing debate fueled by Musk, who cited Bitcoin's high environmental cost.
OTC Stocks to Watch TAWNF
The stock price of Thai Airways International Public Co., ltd has surged from 10 cents last week to $0.3 at the time of writing.
The Thai company engages in airline operations and has three segments:
Air Transportation Activities – it offers passenger, freight, and mail services.
Business Unit – it provides cargo and mail commercial, ground customer, and catering services.
Other Activities – it includes dispatch services, sales on board, THAI shop, and technical services.
It's worth mentioning that the Thai government has a major share in the company, which is now working to restructure its huge debt.
While the pandemic has been a severe blow to the company's operations, it had been in difficulty many years prior to that. Following the pandemic and debt issues, the government cut its stake to 47.86%, ending its status as a state-backed enterprise.
Exactly one year ago, Thai Airways International, which lost over $4.5 billion in 2020, submitted a request to a bankruptcy court for rehabilitation of its debt. The request was approved, which gave the airline time to negotiate with its creditors. During the last few months, the company has focused on debt restructuring, with any update causing fluctuations in the stock price.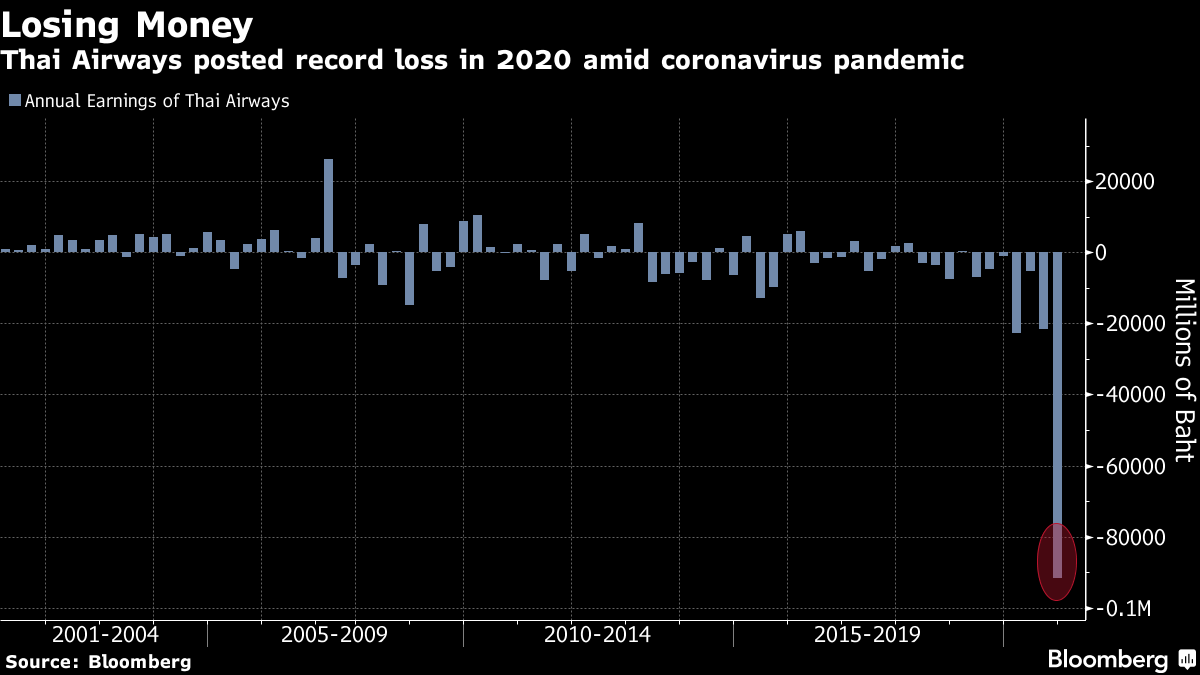 In mid-March, TAWNF surged to over $5 for a short time. Earlier that month, Thailand's finance ministry, still the largest shareholder of Thai Airways International, expressed its support for a restructuring plan that includes raising fresh capital, a temporary freeze on repayment of borrowings and cutting its workforce by 50% to return the debt-ridden company to profit, as per Bloomberg. However, it seems that shareholders didn't reach a consensus, causing a slump in the stock price.
Creditors and shareholders should have met on May 15 to discuss the restructuring plan, but the meeting was postponed to May 19. The company needs more than 50% of its creditors to accept the plan.
All in all, May 19 will be a huge day for TAWNF, and we think you should definitely keep an eye on the stock. Some sources indicate that creditors would indeed reach an agreement.
$TAWNF – Massive! Fireworks start tomorrow 💥

"Bangkok Bank has reached an agreement" 🚨

⬇️🔥⬇️ pic.twitter.com/IaFglqiFmk

— StockMinds009 (@Stockminds009) May 16, 2021
The Final Note
Today, investors can benefit from the stock market's bullishness and find great opportunities as the economy is reviving. Our job is to identify the best OTC stock options with evident growth potential and let our subscribers pick the ones they like to build a well-diversified portfolio oriented at penny stocks.
If you like any of these 4 OTC stocks, our best advice is to be patient and enter the market during corrections. Buying dips and selling rips as swing trades remains the best strategy in the penny stock market. Still, whenever an OTC stock is in the middle of a bull run, we recommend our subscribers benefit from the growing momentum.
It's very important to consider OTC stocks that have room for growth and don't seem to be at their culmination. There are plenty of opportunities, and we take our time to monitor hundreds of penny stocks to buy each week, trying to find the best alerts for our subscribers.
Remember, all you need is one or two OTC stocks to succeed in order to have a lucrative portfolio.
As always, good luck to all (except the shorts)!
WHEN INSIDER FINANCIAL HAS A STOCK ALERT, IT CAN PAY TO LISTEN. AFTER ALL, OUR FREE NEWSLETTER HAS FOUND MANY TRIPLE-DIGIT WINNERS FOR OUR SUBSCRIBERS. WE SPECIALIZE IN FINDING MOMENTUM BEFORE IT HAPPENS!
Disclosure: We have no position in any of the securities mentioned. We wrote this article ourselves and it expresses our own opinions. We are not receiving compensation for it. We have no business relationship with any company whose stock is mentioned in this article. Insider Financial is not an investment advisor and does not provide investment advice. Always do your own research and make your own investment decisions. This article is not a solicitation or recommendation to buy, sell, or hold securities. This article is meant for informational and educational purposes only and does not provide investment advice.