OUR NEW PROFILE IS:    (NYSE: KULR

)
"RIGHT NOW KULR IS A STAR" – WALL STREET JOURNAL
Contracts With NASA, Lockheed Martin, And Other Global Business Giants
KULR SECURES FOLLOW-ON $2.68 MILLION CONTRACT AS EXCLUSIVE SUPPLIER OF FAIL-SAFE BATTERY SAFETY SOLUTIONS FOR INDUSTRIAL SCALE ENERGY STORAGE SYSTEM MANUFACTURER

(BREAKING TONIGHT AFTER THE BELL)
KULR Reports Preliminary Fourth Quarter 2022 Financial Results, Anticipates 137% Revenue Growth.

Read our press release for more information: https://t.co/cvDJ1YPBdz#Battery #Aerospace $KULR pic.twitter.com/IJm9UVBdab

— KULR Technology (@KULRTech) February 13, 2023
__________________________________________________________
Hello Everyone,
We have an exciting past winner back in our desk for today's session.  In fact, the last time we looked at this one back in late September it opened at 1.40.  Exactly 30 days later it was sitting at 2.20 for a massive 58% move.  I bet you haven't  seen a lot of those in your portfolio over the past year or so.
Start your research immediately on KULR Technology Group Inc (NYSE: KULR).
They just released breaking news after the bell that could have an impact at the open tomorrow.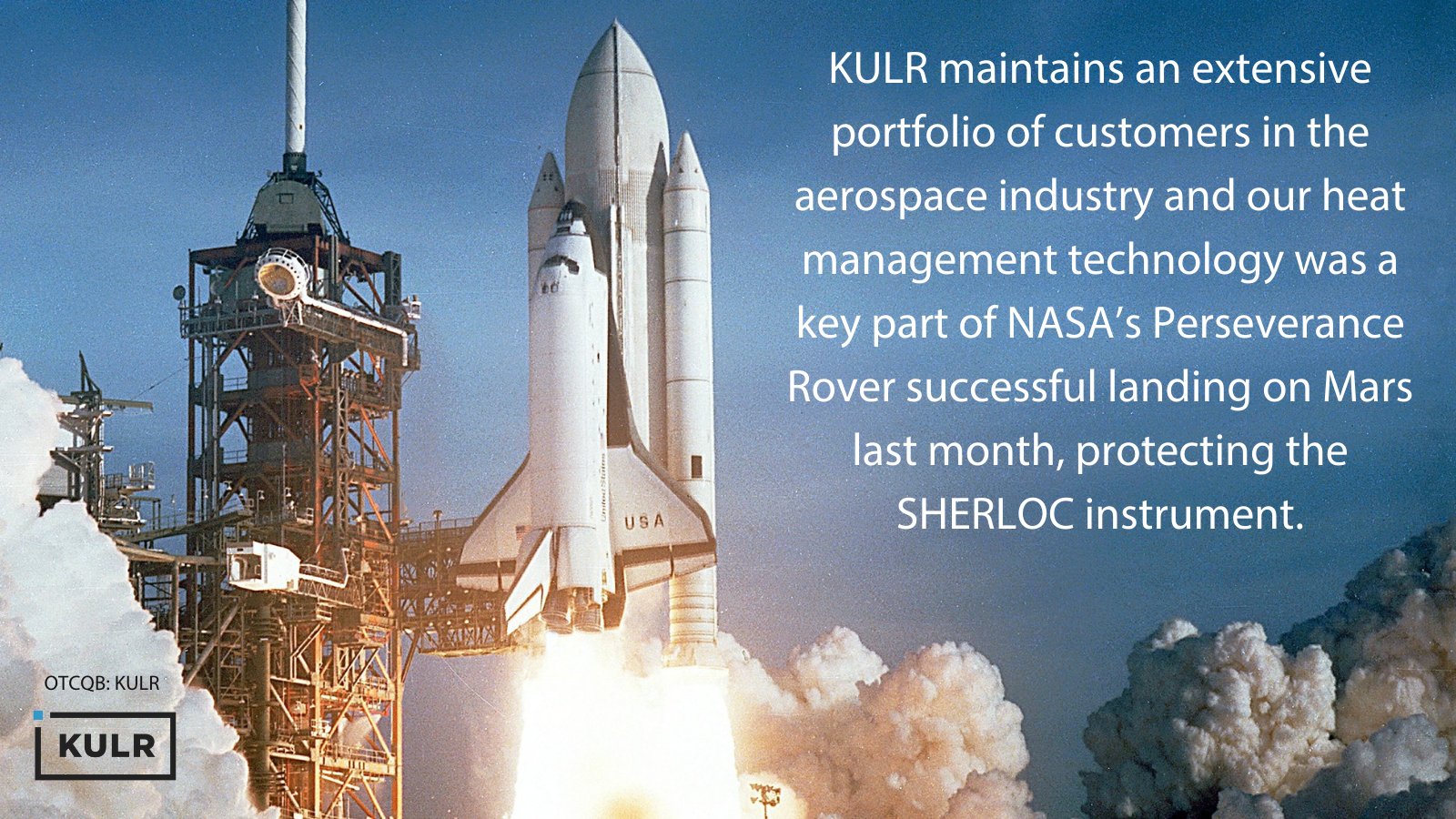 KULR Technology Group Inc (NYSE: KULR) develops and commercializes high-performance thermal management technologies for batteries, electronics, and other components across an array of battery-powered applications. As the global economy becomes increasingly electrified and connected, KULR is addressing the rising demand for cooler, lighter, and safer batteries, and electronic systems. Leveraging the company's roots in developing breakthrough cooling solutions for NASA space missions and backed by a strong intellectual property portfolio, KULR provides customers with industry-leading battery safety technologies as well as cost-effective cooling technologies that outperform traditional solutions. The world's leading aerospace, electronics, energy storage, 5G infrastructure, and electric vehicle manufacturers trust KULR to solve safety, reliability, and efficiency challenges in an ethical and environmentally sustainable manner.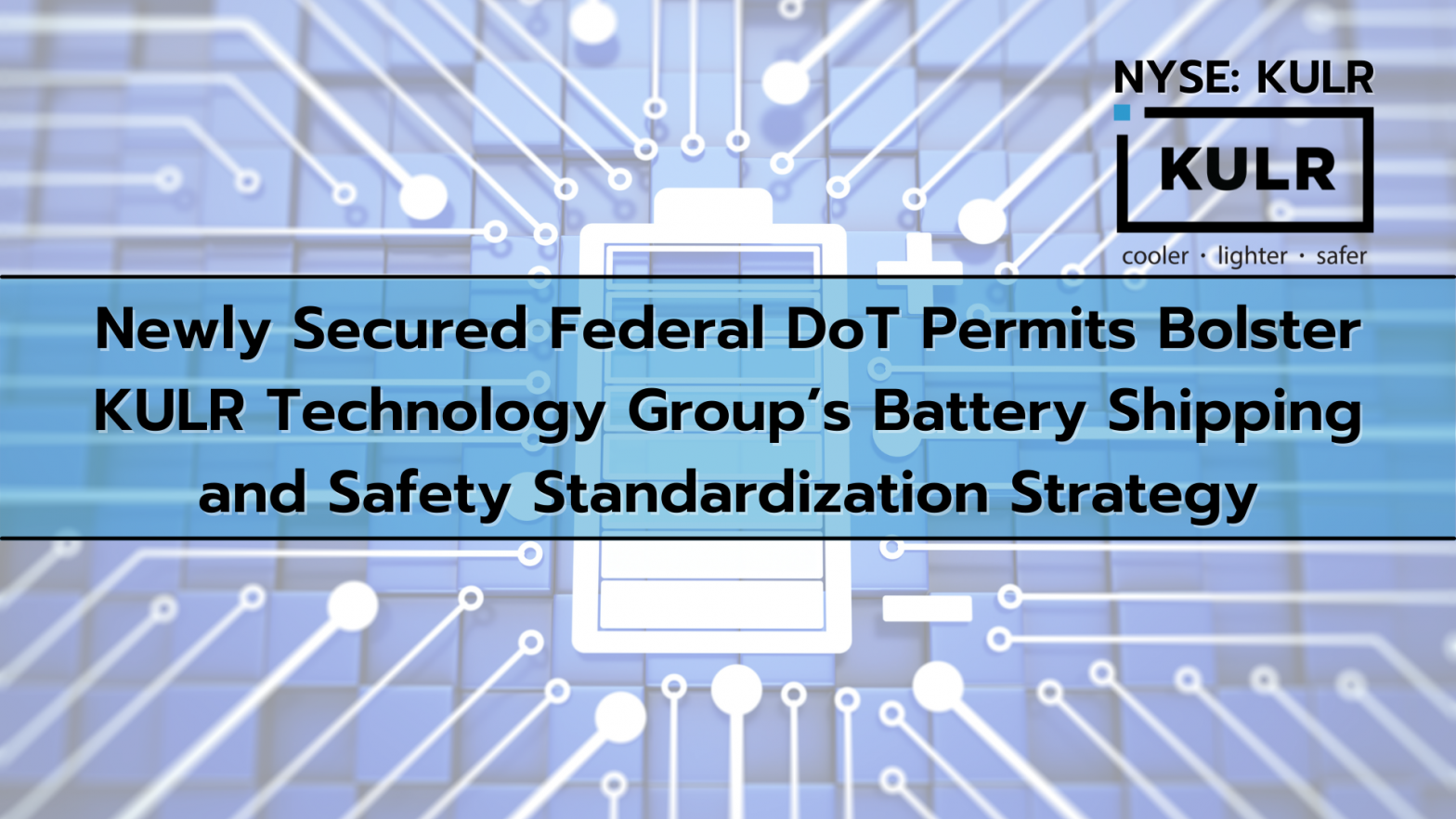 Active government initiatives propelled by industry and regulatory tailwinds are increasing demand for battery recycling and clean energy, resulting in an expanding total addressable market for KULR's solutions. The Company's disruptive technologies strive to fulfill an addressable $24 billion thermal management systems market (estimated based on market data projections published by Converged Markets stating that the thermal management systems market size was projected to grow from $11.1 billion in 2017 to $24.8 billion by 2025.  KULR's integrated design approach offers comprehensive solutions in thermal interface materials, lightweight heat exchangers, and protection against lithium-ion battery thermal runaway propagation. Its high-performance solutions can be designed to fit demanding configurations and applications. 
As companies and governments around the world pledge to meet net zero emissions over the next few decades, KULR is uniquely positioned to accelerate the adoption of clean energy solutions and sustainable products and facilitate the migration to a global circular economy. The Company's goal is to provide total battery safety solutions for more efficient battery systems, increased sustainability, and end-of-life battery management, making KULR a key technology solutions provider in the migration to a global circular economy. 
*****BREAKING NEWS AFTER THE BELL ON 2/28*****
KULR SECURES FOLLOW-ON $2.68 MILLION CONTRACT AS EXCLUSIVE SUPPLIER OF FAIL-SAFE BATTERY SAFETY SOLUTIONS FOR INDUSTRIAL SCALE ENERGY STORAGE SYSTEM MANUFACTURER
KULR has developed a novel integrated design approach that offers comprehensive solutions in thermal interface materials, lightweight heat exchangers, and protection against lithium-ion battery thermal runaway propagation.
SAN DIEGO / GLOBENEWSWIRE / February 28, 2023 / KULR Technology Group, Inc. (NYSE American: KULR) (the "Company" or "KULR"), a leading energy management platform company accelerating the global transition to a sustainable electrification economy, today announced it secured a $2.68 million follow-on contract as the exclusive supplier of its patented and proprietary fail-safe Passive Propagation Resistant ("PPR") battery solutions for a stationary and mobile lithium-ion battery power system manufacturer (the "Customer"). After extensive design and testing efforts, this order represents KULR's single largest PPR deployment order in a stationary or mobile energy product to date. This is a follow-on order as the Customer prepares to scale towards the full automation of its battery assembly operations, whilst KULR expands its automated PPR component manufacturing in North America.
The Customer relied on KULR's PPR solution in designing, testing, and meeting the stringent UL 9540 (Field-Listed with Energy Storage Systems) and UL 9540A (Cell/Module/Pack-Tested) certification of its stationary lithium-ion battery pack systems, which in turn led to rigorous testing and passing of the safety threshold established by the Canadian Standards Association Group ("CSA"), an independent testing body that is a leader in standards development, testing, inspection and certification.
The Customer's lithium-ion battery systems have been authorized as safe to use in occupied buildings. The systems can be configured to provide from 50 KWh ("Kilowatt-hours") to 5 MWh ("Megawatt-hours") of distributed energy storage at the point-of-use where applications range from medical and research complexes, residential and commercial buildings, to remote data centers and manufacturing facilities. The systems also provide fully renewable mobile energy solutions for construction equipment, waste disposal, last-mile delivery, as well as other portable industrial markets.
KULR's PPR design solutions enable energy storage systems a longer life cycle and allow completely self-contained safe battery solutions to meet the demands of the heavy construction and manufacturing sector while opening new opportunities for KULR with industrial customers seeking to buy and store electricity during less-expensive off-peak times – offsetting the need for gas-powered generators as backup power. The state of California will require portable gas-powered generators to be zero-emissions by 2028, potentially another boon for KULR.
"We are pleased to be the exclusive supplier of fail-safe stationary storage battery solutions for this Customer's significant buildout," said KULR CEO Michael Mo. "The reality is that there will be many more projects like this one coming to market soon, especially with the Inflation Reduction Act amplifying demandfor safe and clean stationary energy storage. We know solutions that promote battery safety are of great importance for utility and industrial energy storage providers and it's our belief that KULR offers one of the safest and most cost-effective energy storage technologies in the marketplace."
The stationary battery storage market is set to surpass USD $870 billion by 2032, according to a research report by Global Market Insights Inc. published in late 2022.
This latest Customer order follows the recent announcement that KULR commenced Phase 2 development of its PPR battery systems for Lockheed Martin Corporation's (NYSE: LMT) Advanced Energy Systems. As KULR continues to collaborate with entities such as the United States Department of Defense ("DoD"), NASA, and major defense manufacturers, KULR is steadily leveraging its thermal design expertise beyond government contracts, rechanneling its PPR applications from military purposes to commercial enterprise, for uses such as energy storage systems, e-mobility, and cloud computing.
SINCE LATE DECEMBER KULR HAS BEEN TRADING IN A FAIRLY TIGHT SIDEWAYS CHANNEL AND YOU CAN SEE THEIR WAS PRICE ACTION WHEN INTEREST CAME INTO THIS ONE.  EVEN THOUGH IT HAS BEEN SIDEWAYS WITH THE MARKET YOU CAN SEE THAT THIS ONE IS NO STRANGER TO BIG MOVES WHEN THE MARKETS WARRANT IT.
KULR REPORTS PRELIMINARY FOURTH QUARTER 2022 FINANCIAL RESULTS, ANTICIPATES 137% REVENUE GROWTH
SAN DIEGO / GLOBENEWSWIRE / February 13, 2023 / KULR Technology Group, Inc. (NYSE American: KULR) (the "Company" or "KULR"), a leading energy management platform company accelerating the global transition to a sustainable electrification economy, today announced its unaudited preliminary financial results for the fourth quarter ending December 31st, 2022.
Q4'22 Financial Highlights and Operational Highlights:
Revenue for the three months ended December 31, 2022, is estimated to be $1,813,000, an increase of approximately 137%, compared to $766,000 in the same quarterly period of the prior year.
Gross margin for the three months ended December 31, 2022 is estimated to be 80%, compared with 70% in the same quarterly period of the prior year.
Secured initial order from top-tier United States Department of Defense Contractor. Initial deployment will be over $500,000 (over an approximate 6-month period) from a customer with future projects that could derive multi-million dollars in revenues over the next year.
Began Phase 2 battery safety testing for Lockheed Martin Corporation ("Lockheed"). Commenced Second-Half 2022 Phase 2 development of its passive propagation resistant ("PPR") battery systems for Lockheed following a successful Phase 1 trial in November 2021.
Entered into an agreement to provide its internal short circuit ("ISC") battery safety and testing device to the largest automotive manufacturer in the United States. The ISC testing technology allows the manufacturer to predict battery cell failure and then analyze the causes to build safer batteries.
Announced production prototype order from top-tier power tool manufacturer for KULR SafeCase, a reusable, safe, and high-energy battery transportation, and storage solution. This specific power-tool manufacturer is a leader in sustainability and safety within the industrial tool and household hardware sectors, and an active participant in many initiatives around lithium-ion battery safety, transportation, education, and recycling.
Launched its SmallSat Lithium-ion ("Li-ion") battery pack format to further support the NASA space program and launch of Artemis. KULR's battery product meets top safety requirements outlined by JSC 20793 created by NASA. The Company continues its close relationship with NASA to help ensure the safety of battery systems, flight, and exploration of space and added to a Suite of Battery Safety and Testing Solutions with a New Commercial License of NASA Technology. KULR achieved operational readiness for its Fractional Thermal Runaway Calorimeter ("FTRC") within its suite of battery safety and thermal management solutions after finalizing a commercial licensing agreement for the agency's patent pending FTRC solution.
Acquired VibeTech and Launched Vibration Reduction Service, KULR VIBE. The KULR VIBE suite of technologies utilize proprietary sensor processes with advanced learning algorithms to both achieve precision balancing solutions, and successfully predict component failure based on its comprehensive database of vibration signatures. Its enhanced AI learning algorithms pinpoint areas where excess vibrations cause a loss of energy that can lead to system malfunctions, weakened performance, and maintenance issues.
Secured First Customer for KULR VIBE Underscoring the Solution's Commercial Application in the Aviation Sector. Entered into a six-figure annual subscription agreement with an industry leading, American-based commercial helicopter operator to provide global track and balance support for its fleet of helicopters via KULR VIBE, which provides a proprietary AI-driven vibration reduction solution.
Partnered With Gamma Technologies, a global leader and innovator in multi-physics system simulation software, to create next generation battery designs for the eVTOL and EV markets. KULR to integrate Gamma Technologies' GT-SUITE Multi-Scale Multi-Physics Simulation Platform into the Company's holistic suite of products and services.
"We are very pleased with our revenue ramp and order flow moving into 2023," said KULR CEO Michael Mo. "The platform, which we have built and continue to expand, positions KULR as a preferred solutions provider of lithium-ion battery safety and thermal management technologies.  We look forward to continued growth as we leverage the tailwind of a robust battery supply chain and positive regulatory support."

CATALYSTS
Leveraging KULR's roots in developing breakthrough cooling solutions for NASA space missions and backed by a strong intellectual property portfolio, KULR provides customers with industry-leading battery safety technologies as well as cost-effective cooling technologies that outperform traditional solutions. 
KULR is currently processing up to 10,000 lithium-ion cells per week as well as preparing for tests performed by NASA, the Department of Defense ("DoD"), and others performing manned flighted missions.  
KULR was awarded three additional contracts with DoD prime contractors to implement the Company's carbon fiber cathode solution for high-power magnetic and other covert pulse weaponry initiatives.  
KULR also secured a new battery safety contract with NASA to test its lithium-ion cells for future battery packs designed for the Artemis Program, a series of US-led international human spaceflight programs.  
KULR recently appointed former NASA Johnson Space Center senior leader Dr. William Walker as Director of Engineering. 
KULR expects to procure lithium-ion battery cells providing up to 500-megawatt hours ("MWh") of energy capacity, enough to power approximately 40,000 homes. 
KULR just received a follow-on phase change material heat sink order from Lockheed Martin  
KULR has partnered with Lockheed Martin, Leidos and other prime contractors to develop and supply mission-critical technologies for hypersonic vehicles, high-power magnetic wave, and other defense systems.  
KULR's portfolio of thermal management solutions target air and liquid-cooling of high-performance computing applications such as crypto mining, cloud computing, AI, and AR/VR simulations to maximize performance, energy efficiency and safety. 
KULR SECURES FIRST CUSTOMER FOR KULR VIBE UNDERSCORING SOLUTION'S COMMERCIAL APPLICATION IN THE AVIATION SECTOR
KULR Provides Client's Global Fleet of Helicopters with Mission-Critical Maintenance Support
SAN DIEGO / GLOBENEWSWIRE / December 21, 2022 / KULR Technology Group, Inc. (NYSE American: KULR) (the "Company" or "KULR"), a leading energy management platform company accelerating the global transition to a sustainable electrification economy, today announced that it has entered into a six-figure annual subscription agreement with an industry leading, American-based commercial helicopter operator (the "Client") to provide global track and balance support for its fleet of helicopters via KULR VIBE, which provides a proprietary AI-driven vibration reduction solution. By incorporating KULR VIBE into their maintenance program, the Client can safely service and maintain operations of its diverse helicopter fleet which service customers in the oil and gas and air-medical sectors.
The Client is one of the world's largest civilian helicopter operators with over 250 diverse aircraft spanning 5 continents.
Through KULR VIBE, the Company addresses one of the most challenging issues with advanced machinery today, excessive vibrations. Vibrations cause increased maintenance, accelerated component replacements, and downtime. Excessive energy-robbing vibrations are destructive to both the helicopter and in many cases the operator. By integrating KULR VIBE into its existing hardware and software processes, the Client can pinpoint areas where excess vibrations across its fleet of 250+ helicopters may cause system malfunctions, weakened performance, maintenance issues, and loss of available aircraft to perform its mission. With KULR VIBE and the 24/7/365 maintenance support it provides, the Client can keep its fleet of helicopters, that would otherwise be grounded or pose a substantial risk to crew members airborne. KULR's Mechanical Fault Diagnostic ("MFD") software compliments the learning algorithms and AI functions of KULR VIBE to provide a comprehensive solution for the end customer.
"KULR has a long history of developing products that offer its customers proven solutions built to safely withstand the most severe conditions, from space to extreme heat, while also mitigating the potentially devastating effects of excessive vibration on machinery," said KULR's President & COO, Keith Cochran. "Through our KULR VIBE solution we enable this Client to provide high-quality support to their customers and ensure they can safely carry out some of the most challenging assignments in aviation."
This recent contract comes on the heels of KULR VIBE's platform identifying and remedying vibration problems on two Bell AH-1Z Viper attack helicopters and one Bell Boeing Osprey V-22 tiltrotor aircraft at Marine Corps Base Camp Pendleton in southern California. The almost $40 million AH-1Z Viper Attack Helicopter was previously diagnosed as inoperable before KULR's team quickly identified, resolved, and facilitated a return of the aircraft to mission capable status.
KULR is currently working with a helicopter retrofit company to embed its systems in older aircraft while focusing on a key market of original equipment manufacturers who may wish to install KULR VIBE as factory equipment. The Company's immediate focus is two-fold: grow the commercial helicopter business and integrate with the United States Department of Defense to help enable their fleet for flight readiness 24/7/365.
In addition to helicopters, the Company sees applications for KULR VIBE in eVTOL aircraft, unmanned aircraft systems, high-performance automobiles, renewable wind energy turbines and industrial motors.
According to Fact.MR, an insights-driven global market intelligence company, the global vibration motor market is estimated at USD 6.5 Billion in 2022 and is forecast to reach USD 24.1 Billion by 2032, growing at a CAGR of 14.1% during 2022-2032.
_________________________________
REVOLUTIONARY ADVANCEMENTS
KULR Technology focuses on providing revolutionary advancements for battery safety technology and thermal energy management. Next generation products come with big unknowns. That's why an experienced battery technology partner can help you get your idea from prototype to product.
We partner with you to conceptualize, model, develop test plans, and can even run validation testing to confirm performance meets design specifications. KULR offers a complete range of design services for batteries used in various industries from high-tech space satellite systems, to home energy storage and e-mobility applications.
Our innovative designs, consider weight, performance, safety and reliability integrating solutions for thermal propagation, venting and packaging. Our battery solutions are designed for high-performance, high-reliability applications, where weight, performance, safety and reliability are key functional attributes.
Fractional Thermal Runaway Calorimetry (FTRC)
EXCLUSIVELY LICENSED FROM NASA
KULR Technology has unique and proprietary cell level testing capability that can characterize the thermal runaway characteristics of various cell types. This yields data that can be used to create a battery pack design with thermal runaway mitigation measures for the most demanding applications that require the most safe and reliable designs.
In addition, KULR Technology has exclusively licensed from NASA an innovative automated cell screening line. This capability enables screening of cylindrical lithium-ion battery cells to be JSC EP-WI 37A certified for manned spaceflight.
OUR CELL LEVEL TESTING PROVIDES:
SAFE AND RELIABLE BATTERY DESIGN
Our Engineers utilize Multiphysics Modeling to analyze potential thermal runaway outcomes using simulation before physical testing begins. This provides useful data to assist with safe and reliable battery design and shortens time to market by eliminating the need for some physical testing later in the design cycle.
KULR CubeSat battery components
Using the data collected from Cell Level Testing and Multiphysics Modeling Services, KULR Technology can design battery packs that are safe, reliable, minimize the risk of a thermal runaway event and are designed to offer passive propagation protection. These sensible battery designs are suitable for the most demanding applications where reliability and safety are paramount.
OUR BATTERY DESIGN SERVICES PROVIDES:
SAFE AND RELIABLE BATTERY DESIGN
KULR Technology has extensive experience in testing battery packs to ensure that passive propagation protection measures work as intended in a final battery pack design. This includes using proprietary cell triggering methods that better resemble real world thermal runaway events by eliminating outside variables that are introduced with traditional cell triggering methods. This provides better data that can give customers confidence in their products battery pack design.
OUR PACK LEVEL TESTING PROVIDES:
Utilizing our team of world class Engineers who previously designed battery systems for NASA that are suitable for manned space flight, KULR Technology can help you develop and execute an extensive systems level plan that will ensure your applications meet the performance, reliability and safety criteria to set yourselves apart from your competition.
OUR SYSTEMS LEVEL TESTING PROVIDES:
SAFE AND RELIABLE BATTERY DESIGN
Hazardous shipping documentation is required for all methods of transportation. Since batteries can pose many hazards, including chemical burns, fires and electrical shock. The transportation of batteries is regulated under the Department of Transportation (DOT). KULR can provide all the testing and documentation required to meet the stringent HazMat documentation requirements, ensuring full compliance with any government regulations.
KULR TRANSPORT & LOGISTICS SERVICES PROVIDES:
Energy Storage 
The U.S. doubled its energy storage capacity in 2021 and is expected to increase 17x by 2030, according to Wood Mackenzie. Lithium-ion batteries are the dominant technology on the market for energy storage because of their cost and availability but do carry well documented safety risks. While rare, cell to cell thermal runaway in lithium-ion batteries can cause a fire or explosion. For example, an explosion at Arizona Public Service's McMicken battery plant injured four emergency responders in 2019 and overheating caused the 1.2 GWh Moss Landing storage facility in California to go off-line. To reach net zero by mid-century will require an additional 245 GWh of battery capacity each year until 2030, but incidents of the like distill trust in battery technologies and threaten to slow the pace which is needed to achieve decarbonization goals. KULR's passive propagation resistant (PPR) and thermal runaway shield (TRS) technologies prevent cell to cell thermal runaway propagation and inhibit fire and ejecta of a single cell from exiting the battery enclosure, making battery energy storage packs safe for homes, hospitals, schools, and universities, and more. KULR is partnering with leaders in the energy storage industry such as Volta Energy Products, the subsidiary of Buffalo NY based parent company, Viridi Parente, to increase deployments of safe, reliable, and durable energy storage safety systems to accelerate the broader energy transition. 
Battery Recycling and Management 
KULR-Tech Safe_Case provides a safe and cost-effective solution to commercially store and transport lithium batteries, which is increasing in frequency as supply chain challenges and ESG commitments necessitate battery recycling and end-of-lifecycle management. Whether shipping a single battery, a battery-powered device or a load shipment of batteries, KULR's technology mitigates the impacts of cell-to-cell thermal runaway propagation and ensures a safe journey. KULR's Thermal Runaway Shield (TRS) technology is trusted by NASA to ship and store astronauts' laptop batteries on the International Space Station. In addition, KULR combines its Passive Propagation Resistant (PPR) solutions with its new CellCheck intelligent battery management system to extend battery life. The CellCheck modular battery management system platform is KULR's AI-powered battery safety technology for e-mobility, energy storage and fleet applications. It captures real time and lifetime battery intelligence, sensing adverse electrical, environmental, and physical events to analyze and control for maximum battery safety, reliability, and performance. As commercial industries across the board face greater scrutiny to comply with ESG standards, KULR is serving a total addressable market for a circular economic model for batteries that will reach over $21 billion by 2025 (estimated based on market data projections published by Grand View Research, Inc. stating that the global battery recycling market size is expected to reach $21.04 billion by 2025). 
E-mobility 
KULR is supporting the shift to electrified transport by enabling safer, lighter, and faster charging lithium-ion batteries for electric vehicles and micro mobility solutions. KULR's passive propagation resistant (PPR) battery pack solutions increase battery energy capacity while preventing thermal runaway events that can lead to hazardous explosions, helping the transportation industry to address growing public safety concerns around electric vehicles, electric aviation and micro-mobility markets. 
Vehicle technology advancements and EV range anxiety requires more battery capacity to expand the range and power of existing platforms while adding new, power-demanding components for advances such as 5G data networks. The additional strain on batteries increases the risk for overheating and serious failures and can damage sensitive chip architecture. In addition, overheating has been a key limiting factor for advancing fast charging battery technology. KULR's carbon fiber thermal management technologies reduce the thermal resistance inside battery cells while increasing electrical conductivity to dissipate heat more efficiently to enable the safe deployment of fast charging batteries. With KULR, automotive OEMs and battery manufacturers can increase the energy capacity of battery cells so less cells are needed, making for lighter vehicles that drive further before needing to be charged. 
Aerospace/Defense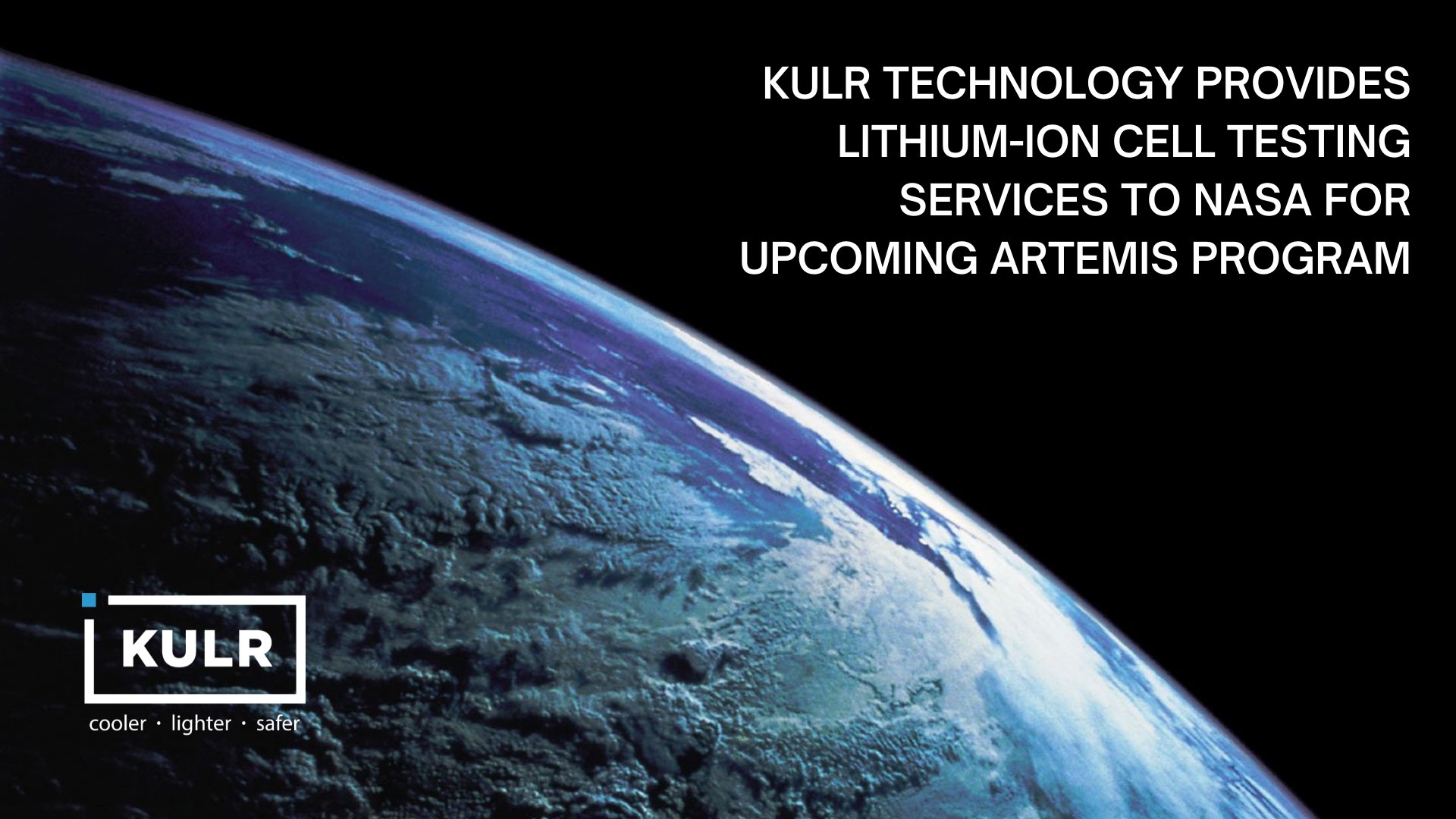 KULR's thermal management solutions enable the defense and aerospace industries to safely deploy electronic technologies that support critical missions and protect national security.Technology in this sector is developing at increasing rates – the space industry alone will be worth nearly $3 trillion in 30 years. The electronic devices being placed into aircrafts, satellites, and missiles are becoming ever smaller and more powerful. Lithium-ion batteries, which are already prone to overheating and propagation, are exposed to harsh thermal environments as well as shock and vibration during aerospace and defense operations. KULR has partnered with Lockheed Martin, Leidos and other prime contractors to develop and supply mission-critical technologies for hypersonic vehicles, high-power magnetic wave, and other defense systems. 
High-Powered Computing & 5G 
Demand for improved, cost-effective cooling solutions in the rapidly growing 5G and cloud computing industries is ever-increasing. KULR's portfolio of thermal management solutions target air and liquid-cooling of high-performance computing applications such as crypto mining, cloud computing, AI, and AR/VR simulations to maximize performance, energy efficiency and safety. KULR's proprietary carbon fiber-based suite of thermal interface materials leverage advanced carbon fiber based heatsink technology that offers customers highly customizable, lightweight, and cost-effective solutions with industrial-level reliability due to their high thermal conductivity, lightweight, and low contact pressure. 
New Battery Cell Development 
KULR started a research and development initiative using carbon fiber structures to produce battery cells with higher energy density and faster charging capabilities. Fast-charging will be the killer app for next-gen batteries. Right now, overheating is a key limiting factor in advancing fast-charging battery technology. There may be a way to solve that problem by using carbon fiber inside the battery cell to reduce thermal and electrical resistance which can dissipate heat more effectively. The R&D initiatives include thicker cathode with higher loading factor, silicon anode, lithium metal anode and solid-state electrolyte development. This is a long-term strategic development for KULR. 
Commercial Partnerships
KULR has a long-term technology and developmental partnership with Andretti Technologies (ATEC), the advanced technology arm of racing team Andretti Autosport. The alliance will establish a thermal management testing and design platform for high-performance battery solutions with the highest safety ratings that will be adapted to the technical requirements of Andretti's racing enterprise with the goal of transferring solutions to mass-market electric vehicle (EV) applications. 
New Facility and IT-Systems 
KULR relocated in October 2021 to a new facility located at 4863 Shawline St, San Diego, CA. The facility is 3 times larger than the previous facility with adequate room to support the Company's new automated battery cell testing capability that will launch in Q322 as well as personnel growth. Additionally, the Company installed independently enclosed areas to support the machine shop, testing lab, battery lab, and Fiber Thermal Interface Material ("FTI") manufacturing lab. KULR has implemented a 5S standard for the entire facility and will seek ISO 9001 certification in June 2022. 
KULR has engaged with Managed Solutions to enhance its IT infrastructure and improve all aspects of Cyber Security. As a sub-contractor for DOD programs, it was vital that KULR have state of the art IT systems and controls. The Company believes the best path based on the current scale of the company is to outsource this activity to a professional IT services organization. The result of this activity was an improvement of our NIST score of over 140 points. 
EVOLUTION OF KULR
*** KULR PCM heat sink technology inside the International Space Station (ISS) Nicer telescope. (2016)
*** NASA testing of KULR TRS battery heatsink is best-in-class.  KULR awarded contract in upcoming Mars 2020 Rover mission.  Exclusive worldwide commercial license of NREL ISC testing device. (2017-2018)
*** KULR partners with Lockheed Martin to provide Thermal Management Solution (2018)
*** Product development with world-class partners and start of business expansion with focus on E-mobility and Battery Safety Markets.  (2019)
*** KULR Technology partnership with Leidos to supply NASA with Lithium-ion Battery Storage Solutions for the International Space Station. (2020)
KULR NEWS
ANNOUNCEMENTS
The partnership with Theory comes on the heels of the Company announcing that it will introduce its all-new modular energy storage platform, KULR ONE, at CES 2023 this January 5-8. KULR ONE is a family of next-generation battery packs bringing a combination of safety, performance, intelligence, modularity and reliability to the world's most demanding applications.​
KULR MANAGEMENT TEAM
Mr. Mo is a technology entrepreneur and successful investor with over 20 years of experience in technology management, product development, and marketing. From 2007 to 2015, Mr. Mo served as Senior Director of Business Development at Amlogic, Inc. Prior to Amlogic, he was co-founder and CEO of Sympeer Technology, a peer-to-peer network company. Mr. Mo received a Master's degree in Electrical Engineering from UC Santa Barbara in 1995.
Mr. Cochran is a value-driven leader offering 25+ years of exceptional high-paced business management and operations expertise. From 1995 to 2019, he worked for world-class EMS, Jabil, Inc. He concluded his 24-year career with Jabil as Sr. Vice President of Global Business Units. Prior to Jabil, Mr. Cochran was Supply Chain Manager for SCI Systems. Mr. Cochran received his Bachelor of Science in Business Operations from DeVry Institute of Technology in 1990.
Dr. Walker has significant experience in professional and research-related activities focused on thermo-electrochemical testing and analysis of lithium-ion (Li-ion) battery assemblies and related thermal management products designed for space exploration applications. Prior to joining KULR, Dr. Walker was employed by the National Aeronautics and Space Administration (NASA) Johnson Space Center (JSC) where he focused on designing battery assemblies for human spaceflight applications capable of safely mitigating the effects of thermal runaway and preventing cell-to-cell propagation. Dr. Walker received his B.S. in Mechanical Engineering at West Texas A&M University (WTAMU) and Ph.D. in Materials Science and Engineering at the University of Houston (UH).
In 2009, Mr. Westbrook founded Aargo, Inc., a company specializing in financial consulting services to corporations in various tech-related industries. Prior to Aargo, Mr. Westbrook was CFO of Amber Networks, Inc., and the Chief Financial Officer of Sage, Inc. (NASDAQ: SAGI), a Silicon Valley company specializing in flat panel displays. Before Sage, Mr. Westbrook held senior level financial positions at Creative Technology (NASDAQ: CREAF) and Atari Corp (AMEX: ATC). Simon is a Chartered Accountant and holds a Master's degree in Economics from Trinity College, Cambridge University.
VICE PRESIDENT OF ENGINEERING
Mr. Carpenter was former Director and Safety Officer of Energy Science Laboratories PCM Heatsink Group. He also served as Quality Manager and Facility Security Officer in the Defense Industrial Security Program from 1988 to 1995. Mr. Carpenter received a B.S. in Applied Mechanics from UC San Diego in 1983.
VICE PRESIDENT OF SALES AND MARKETING
Mr. Krupp joins KULR with over 22 years of supplying MIL-SPEC computing solutions to U.S. military and intelligence system integrators. Prior to joining KULR, Mr. Krupp served as Vice President of Sales at San Diego based ZMicro, the preferred choice for rugged computing and visualization for deployed and mission critical applications. He expanded ZMicro's involvement in several platforms, including special operations, ground vehicle systems, tactical datalinks, and next-generation ISR and eventually led ZMicro's sales department as the company continued to grow in prominence across the Department of Defense and foreign military community. Mr. Krupp completed his undergraduate work in Information Systems at the University of Texas.
VICE PRESIDENT OF OPERATIONS
Mr. Martinez joins KULR with over 37 years of leadership and worldwide manufacturing experience in Electronics Manufacturing and Operations. He spent most of his career at Pulse Electronics Corporation in the electronics manufacturing services industry. Most recently he served as Principal Program Manager of Jabil since 2015, managing business operations spanning Quality Assurance Readiness, Large Production Line Transfers, Project Management, Process Improvement with Increased Productivity, and Customer Qualification Support.
Sincerely,
DISCLAIMER
This website/newsletter is a wholly owned subsidiary of One22 Media, LLC, herein referred to as O22, LLC
THIS WEBSITE/NEWSLETTER IS A PUBLICATION OF ONE22 MEDIA, LLC, HEREIN REFERRED TO AS O22. O22'S REPORTS/RELEASES ARE A COMMERCIAL ADVERTISEMENT AND ARE FOR GENERAL INFORMATIONAL PURPOSES ONLY.O22 IS ENGAGED IN THE BUSINESS OF MARKETING AND ADVERTISING COMPANIES FOR MONETARY COMPENSATION. 
WE HAVE BEEN COMPENSATED A FEE OF FIFTEEN THOUSAND USD BY A THIRD PARTY, SHORE THING MEDIA, LLC FOR A 2 DAY KULR AWARENESS CAMPAIGN.  WE HAVE PREVIOUSLY BEEN COMPENSATED A FEE OF UP TO ONE HUNDRED TWENTY FIVE THOUSAND USD FOR 5 SEPERATE PREVIOUS AWARENESS CAMPAIGNS REGARDING KULR BY THE SAME THIRD PARTY, SHORE THING MEDIA, LLC, ALL OF WHICH HAVE EXPIRED.
BY SUBSCRIBING TO OR OTHERWISE USING THIS WEBSITE/NEWSLETTER, YOU AGREE TO HOLD O22 AND ITS OPERATORS, OWNERS, AND EMPLOYEES HARMLESS AND TO COMPLETELY RELEASE THEM FROM ANY AND ALL LIABILITY DUE TO ANY AND ALL LOSS, DAMAGE, OR INJURY THAT YOU MAY INCUR, MONETARY OR OTHERWISE.
INVESTING IN MICRO-CAP AND GROWTH SECURITIES IS HIGHLY SPECULATIVE AND CARRIES AN EXTREMELY HIGH DEGREE OF RISK. NEVER INVEST IN ANY STOCK FEATURED ON O22'S SITE OR NEWSLETTER UNLESS YOU CAN AFFORD TO LOSE YOUR ENTIRE INVESTMENT. THE DISCLAIMER IS TO BE READ AND FULLY UNDERSTOOD BEFORE USING O22'S SERVICES, JOINING O22'S SITE OR EMAIL/BLOG LIST, OR FOLLOWING ANY SOCIAL NETWORKING PLATFORMS O22 MAY USE.
PLEASE NOTE WELL: O22 IS NOT A REGISTERED INVESTMENT ADVISOR, BROKER DEALER OR A MEMBER OF ANY ASSOCIATION FOR OTHER RESEARCH PROVIDERS IN ANY JURISDICTION WHATSOEVER. O22 IS NOT AFFILIATED WITH ANY EXCHANGE, ELECTRONIC QUOTATION SYSTEM, THE SECURITIES AND EXCHANGE COMMISSION, OR FINRA. NONE OF THE MATERIALS OR ADVERTISEMENTS HEREIN CONSTITUTE OFFERS OR SOLICITATIONS TO PURCHASE OR SELL SECURITIES OF THE COMPANIES PROFILED.
THE INFORMATION CONTAINED HEREIN IS BASED ON INFORMATION SUPPLIED BY THE COMPANIES PROFILED, PUBLICLY AVAILABLE INFORMATION, PRESS RELEASES, AND OTHER SOURCES WHICH O22 BELIEVES TO BE RELIABLE, BUT IS NOT GUARANTEED BY O22 AS BEING ACCURATE AND DOES NOT PURPORT TO BE A COMPLETE STATEMENT OR SUMMARY OF THE AVAILABLE DATA. O22 IS NOT RESPONSIBLE FOR ANY CLAIMS MADE BY THE COMPANIES PROFILED. INVESTORS SHOULD NOT RELY ON THE INFORMATION CONTAINED IN THIS WEBSITE/NEWSLETTER IN DECIDING TO INVEST OR MAKE OTHER FINANCIAL DECISIONS. RATHER, INVESTORS SHOULD USE THE INFORMATION CONTAINED IN THIS WEBSITE/NEWSLETTER AS A STARTING POINT FOR DOING ADDITIONAL INDEPENDENT RESEARCH ON THE FEATURED COMPANIES. O22 STRONGLY ENCOURAGES READERS AND INVESTORS TO CONDUCT A COMPLETE AND INDEPENDENT INVESTIGATION OF THE RESPECTIVE COMPANIES, INCLUDING BY REVIEWING SEC FILINGS (FORMS 10-Q, 10-K, 8-K, 3, 4, 5, SCHEDULE 13D) AND BY CONSULTING YOUR OWN TAX, BUSINESS, FINANCIAL, AND INVESTMENT ADVISORS.
THE PRIVATE SECURITIES LITIGATION REFORM ACT OF 1995 PROVIDES A SAFE HARBOR IN REGARD TO FORWARD-LOOKING STATEMENTS. ANY STATEMENTS THAT EXPRESS OR INVOLVE DISCUSSIONS WITH RESPECT TO PREDICTIONS, EXPECTATIONS, BELIEFS, PLANS, PROJECTIONS, OBJECTIVES, GOALS, ASSUMPTIONS OR FUTURE EVENTS OR PERFORMANCE ARE NOT STATEMENTS OF HISTORICAL FACT, AND MAY BE FORWARD-LOOKING STATEMENTS. FORWARD-LOOKING STATEMENTS ARE BASED ON EXPECTATIONS, ESTIMATES, AND PROJECTIONS AT THE TIME THE STATEMENTS ARE MADE THAT INVOLVE A NUMBER OF RISKS AND UNCERTAINTIES WHICH COULD CAUSE ACTUAL RESULTS OR EVENTS TO DIFFER MATERIALLY FROM THOSE PRESENTLY ANTICIPATED. FORWARD-LOOKING STATEMENTS MAY BE IDENTIFIED THROUGH USE OF WORDS SUCH AS PROJECTS, FORESEES, EXPECTS, ANTICIPATES, ESTIMATES, BELIEVES, UNDERSTANDS, MAY, COULD, OR MIGHT. THERE IS NO GUARANTEE THAT PAST PERFORMANCE WILL BE INDICATIVE OF FUTURE RESULTS.