OUR NEW PROFILE IS:   (
NASDAQ

:

JFBR

)
THE PANDEMIC CREATED MILLIONS OF NEW AMAZON USERS, FOREVER CHANGING THE E-COMMERCE LANDSCAPE
In 2021, the company saw record revenue of approximately $6.5 Mn,

a 185% YoY increase.
JFBR is sitting much lower than the IPO price which is a major catalyst in early trading (Major gap to fill for IPO investors to break even)
You can find more info about the company HERE
_______________________
Hello Everyone,
We had an exciting Summer with the IPO market raging the past few months.  There is no doubt that it is one of the hottest sectors people are looking at right now.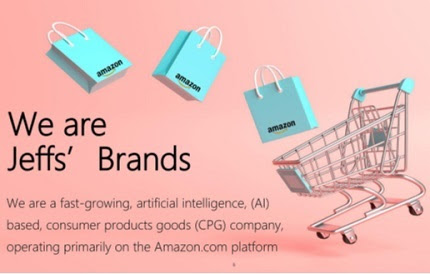 This next one just IPO'd days ago and it is still finding it's legs as far as a trading range.
Pull up JFBR right away.
Jeffs'Brands started its activity in 2019 In California. They own a portfolio of products sold under six brands marketed globally on Amazon.com and they intended to own more brands in the next few years .  After the  IPO they plan to use the net proceeds to, among other things, purchase new Amazon.com brands and continue growing their current operations Operational Experts.  They are a fast growing CPG company, operating primarily on the Amazon.com platform.
The Company's Market? Amazon e-Commerce
The company's market is e-commerce via the Amazon.com platform, of Fulfillment by Amazon (FBA).
E-commerce continues to grow globally after a recent breakout over the past few years in part to the CV19 pandemic. This helped accelerate online shopping and spending which resulted in increased revenues.
And there doesn't appear to be any slowing down in the e-commerce market.
In fact, Statista reports that the e-commerce global market could reach $5.8Tn by 2025, growing at a yearly rate of over 11%.
Amazon has been a big factor in this global growth in recent years, and it may just be the start…
Amazon Is Growing Rapidly Around The World
A.I. Will Transform E-Commerce
On top of the FBA business model, Jeffs' Brands utilizes A.I. and machine learning technologies to analyze sales data and patterns on the Amazon.com marketplace in order to identify existing stores, niches and products that have the potential for development and growth, and for maximizing sales of existing proprietary products.
They also use their own skills, know-how and profound familiarity with the Amazon.com algorithm and all the tools that the FBA platform FBA has to offer. In some circumstances, the company scales the products and improves them.
The company uses the latest machine learning methods to uncover hidden gem products and finds brands with significant upside potential for growth. By using logistics and marketing strategies, these great ideas are turned into the top-selling products on the market.
CATALYSTS
A 52-week high of $3.30 still represents near-term upside potential of over 70%
This  is a  ground-floor situation that is brewing as shares only went public in August
The current price is well bellow the IPO price and the warrants that were executed over $4.
A tiny trading float could lead to swift moves northward with a limited supply of shares available
The stock has seen interest increase substantially since going public
Revenues exploded from $2.3M to $6.5M from 2020 to 2021!
*****BREAKING NEWS THIS MORNING*****
Jeffs' Brands Allocates up to $1 Million for the Launch of its Brands in Sweden and Belgium
The MarketWatch News Department was not involved in the creation of this content.
Tel Aviv, Israel, Sep 12, 2022 (GLOBE NEWSWIRE via COMTEX) — Tel Aviv, Israel, Sept. 12, 2022 (GLOBE NEWSWIRE) — Jeffs' Brands Ltd (the "Company", Nasdaq: JFBR), a data-driven e-commerce company operating on the Amazon Marketplace, announced today the launch of its stores and brands in Sweden and Belgium, after completing the required regulatory processes.
To date, the Company has received Amazon's approval for sale of its brands in the United States, the United Kingdom, Germany, France, Spain and Italy.
Viki Hakmon, Chief Executive Officer of the Company, commented "We are excited to launch our brands in additional European countries and extend our global reach. One of the ways we plan to achieve organic growth is by expanding our products offerings in new territories, in order to support these efforts, we have allocated up to $1 million for the launch of our stores in Belgium and Sweden."
KEY BRANDS
Jeffs' Brands Ltd Announces Closing of $15.5 Million Initial Public Offering
Tel Aviv, Israel, Aug. 30, 2022 (GLOBE NEWSWIRE) — Jeffs' Brands Ltd (the "Company"), a data-driven e-commerce company operating on the Amazon Marketplace, announced today the closing of its initial public offering, and the simultaneous closing of a portion of the underwriter's over-allotment option, for aggregate gross proceeds of approximately $15.5 million before deducting underwriting discounts and other estimated offering expenses. The Company issued 3,717,473 ordinary shares and 3,717,473 warrants, each to purchase one ordinary share with an initial exercise price of $4.04 per share, at a combined initial public offering price of $4.16 per ordinary share and warrant.
The Company granted Aegis Capital Corp., the underwriter ("Aegis"), a 45-day over-allotment option to purchase additional shares of ordinary shares and/or warrants to purchase additional ordinary shares up to 15% of the number of ordinary shares and warrants, respectively, sold in the offering solely to cover over-allotments, if any. On August 29, 2022, Aegis partially exercised its over-allotment option with respect to 425,912 warrants to purchase 425,912 ordinary shares.
The ordinary shares and warrants began trading on Nasdaq under the symbol "JFBR" and "JFBRW", respectively, on August 26, 2022.
 _____
REVENUES
Revenues exploded from $2.3 Million in 2020 to $6.5 Million in 2021.
Case Study #1 – Knife Sharpening Stone
Date of Acquisition: April 2019
May 2018 Revenue: $0.5Mn
May 2019 Revenue: $1.1Mn
1 New product developed, inventory build-up, and world-wide logistic and production relations.
Case Study #2 – Professional Steel Tip Darts
Date of Acquisition: July 2019
August 2018 Revenue: $.519Mn
August 2019 Revenue: $1.26Mn
Sincerely,
DISCLAIMER
THIS WEBSITE/NEWSLETTER IS A WHOLLY OWNED SUBSIDIARY OF ONE22 MEDIA, LLC, HEREIN REFERRED TO AS O22, LLC
OUR REPORTS/RELEASES ARE A COMMERCIAL ADVERTISEMENT AND ARE FOR GENERAL INFORMATION PURPOSES ONLY. WE ARE ENGAGED IN THE BUSINESS OF MARKETING AND ADVERTISING COMPANIES FOR MONETARY COMPENSATION.
WE HAVE  BEEN COMPENSATED A FEE OF TWENTY FIVE  THOUSAND USD BY A THIRD PARTY, LEGENDS MEDIA, LLC FOR A ONE DAY JFBR PROFILE. NEVER INVEST IN ANY STOCK FEATURED ON OUR SITE OR EMAILS UNLESS YOU CAN AFFORD TO LOSE YOUR ENTIRE INVESTMENT. THE DISCLAIMER IS TO BE READ AND FULLY UNDERSTOOD BEFORE USING OUR SERVICES, JOINING OUR SITE OR OUR EMAIL/BLOG LIST AS WELL AS ANY SOCIAL NETWORKING PLATFORMS WE MAY USE.PLEASE NOTE WELL: O22 LLC AND ITS EMPLOYEES ARE NOT A REGISTERED INVESTMENT ADVISOR, BROKER DEALER OR A MEMBER OF ANY ASSOCIATION FOR OTHER RESEARCH PROVIDERS IN ANY JURISDICTION WHATSOEVER.RELEASE OF LIABILITY: THROUGH USE OF THIS WEBSITE VIEWING OR USING YOU AGREE TO HOLD O22, LLC, ITS OPERATORS OWNERS AND EMPLOYEES HARMLESS AND TO COMPLETELY RELEASE THEM FROM ANY AND ALL LIABILITY DUE TO ANY AND ALL LOSS (MONETARY OR OTHERWISE), DAMAGE (MONETARY OR OTHERWISE), OR INJURY (MONETARY OR OTHERWISE) THAT YOU MAY INCUR. THE INFORMATION CONTAINED HEREIN IS BASED ON SOURCES WHICH WE BELIEVE TO BE RELIABLE BUT IS NOT GUARANTEED BY US AS BEING ACCURATE AND DOES NOT PURPORT TO BE A COMPLETE STATEMENT OR SUMMARY OF THE AVAILABLE DATA. O22 LLC ENCOURAGES READERS AND INVESTORS TO SUPPLEMENT THE INFORMATION IN THESE REPORTS WITH INDEPENDENT RESEARCH AND OTHER PROFESSIONAL ADVICE. ALL INFORMATION ON FEATURED COMPANIES IS PROVIDED BY THE COMPANIES PROFILED, OR IS AVAILABLE FROM PUBLIC SOURCES AND O22, LLC MAKES NO REPRESENTATIONS, WARRANTIES OR GUARANTEES AS TO THE ACCURACY OR COMPLETENESS OF THE DISCLOSURE BY THE PROFILED COMPANIES. NONE OF THE MATERIALS OR ADVERTISEMENTS HEREIN CONSTITUTE OFFERS OR SOLICITATIONS TO PURCHASE OR SELL SECURITIES OF THE COMPANIES PROFILED HEREIN AND ANY DECISION TO INVEST IN ANY SUCH COMPANY OR OTHER FINANCIAL DECISIONS SHOULD NOT BE MADE BASED UPON THE INFORMATION PROVIDED HEREIN. INSTEAD O22, LLC STRONGLY URGES YOU CONDUCT A COMPLETE AND INDEPENDENT INVESTIGATION OF THE RESPECTIVE COMPANIES AND CONSIDERATION OF ALL PERTINENT RISKS. READERS ARE ADVISED TO REVIEW SEC PERIODIC REPORTS: FORMS 10-Q, 10K, FORM 8-K, INSIDER REPORTS, FORMS 3, 4, 5 SCHEDULE 13D.O22, LLC IS COMPLIANT WITH THE CAN SPAM ACT OF 2003. O22, LLC DOES NOT OFFER SUCH ADVICE OR ANALYSIS, AND O22, LLC FURTHER URGES YOU TO CONSULT YOUR OWN INDEPENDENT TAX, BUSINESS, FINANCIAL AND INVESTMENT ADVISORS. INVESTING IN MICRO-CAP AND GROWTH SECURITIES IS HIGHLY SPECULATIVE AND CARRIES AND EXTREMELY HIGH DEGREE OF RISK. IT IS POSSIBLE THAT AN INVESTORS INVESTMENT MAY BE LOST OR IMPAIRED DUE TO THE SPECULATIVE NATURE OF THE COMPANIES PROFILED.THE PRIVATE SECURITIES LITIGATION REFORM ACT OF 1995 PROVIDES INVESTORS A SAFE HARBOR IN REGARD TO FORWARD-LOOKING STATEMENTS. ANY STATEMENTS THAT EXPRESS OR INVOLVE DISCUSSIONS WITH RESPECT TO PREDICTIONS, EXPECTATIONS, BELIEFS, PLANS, PROJECTIONS, OBJECTIVES, GOALS, ASSUMPTIONS OR FUTURE EVENTS OR PERFORMANCE ARE NOT STATEMENTS OF HISTORICAL FACT MAY BE FORWARD LOOKING STATEMENTS. FORWARD LOOKING STATEMENTS ARE BASED ON EXPECTATIONS, ESTIMATES, AND PROJECTIONS AT THE TIME THE STATEMENTS ARE MADE THAT INVOLVE A NUMBER OF RISKS AND UNCERTAINTIES WHICH COULD CAUSE ACTUAL RESULTS OR EVENTS TO DIFFER MATERIALLY FROM THOSE PRESENTLY ANTICIPATED. FORWARD LOOKING STATEMENTS IN THIS ACTION MAY BE IDENTIFIED THROUGH USE OF WORDS SUCH AS PROJECTS, FORESEE, EXPECTS, WILL, ANTICIPATES, ESTIMATES, BELIEVES, UNDERSTANDS, OR THAT BY STATEMENTS INDICATING CERTAIN ACTIONS & QUOTE; MAY, COULD, OR MIGHT OCCUR. UNDERSTAND THERE IS NO GUARANTEE PAST PERFORMANCE WILL BE INDICATIVE OF FUTURE RESULTS.IN PREPARING THIS PUBLICATION,O22, LLC HAS RELIED UPON INFORMATION SUPPLIED BY ITS CUSTOMERS, PUBLICLY AVAILABLE INFORMATION AND PRESS RELEASES WHICH IT BELIEVES TO BE RELIABLE; HOWEVER, SUCH RELIABILITY CANNOT BE GUARANTEED. INVESTORS SHOULD NOT RELY ON THE INFORMATION CONTAINED IN THIS WEBSITE. RATHER, INVESTORS SHOULD USE THE INFORMATION CONTAINED IN THIS WEBSITE AS A STARTING POINT FOR DOING ADDITIONAL INDEPENDENT RESEARCH ON THE FEATURED COMPANIES. THE ADVERTISEMENTS IN THIS WEBSITE ARE BELIEVED TO BE RELIABLE, HOWEVER, O22, LLC AND ITS OWNERS, AFFILIATES, SUBSIDIARIES, OFFICERS, DIRECTORS, REPRESENTATIVES AND AGENTS DISCLAIM ANY LIABILITY AS TO THE COMPLETENESS OR ACCURACY OF THE INFORMATION CONTAINED IN ANY ADVERTISEMENT AND FOR ANY OMISSIONS OF MATERIALS FACTS FROM SUCH ADVERTISEMENT. O22, LLC IS NOT RESPONSIBLE FOR ANY CLAIMS MADE BY THE COMPANIES ADVERTISED HEREIN, NOR IS O22, LLC RESPONSIBLE FOR ANY OTHER PROMOTIONAL FIRM, ITS PROGRAM OR ITS STRUCTURE. 022, LLC IS NOT AFFILIATED WITH ANY EXCHANGE, ELECTRONIC QUOTATION SYSTEM, THE SECURITIES EXCHANGE COMMISSION OR FINRA.