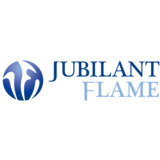 _______
OUR NEW PROFILE IS:  
 JFIL
Hello Everyone,
In the previous 12 months, this profile's chart is showing intraday breakout potential of over 200%.
Previously when I brought this profile to your attention early in the AM, it went absolutely bonkers.
One main reason this move was possible was because of JFIL's low float.
According to the OTC Markets' website, JFIL has a float of approximately 8.9Mn shares.
With such a low float, volatility can be in the cards on a daily basis for a profile like this.
Now, here's some key company details to absorb real quick:
Company Breakdown: Jubilant Flame International, Ltd. (JFIL)
From the company website:
Biotechnology Leads to Perfect Life
Jubilant Flame International provides the best biotechnological products for our customers targeting on health, beauty care and comfort. JFIL studies the impact of advanced biotechnology on the progress of life, bringing revolutionary changes to the future of human health, beauty care, health and food. Our global research, particularly the world's premier biology research institutes in Asia and North America continue to create amazing achievements. We have created a number of well-known biotechnical medicines, cosmetics and health food brands affecting the world's health and lifestyles.
Our technology team is providing technology support to customers in North America, and Asian countries. We are not only committed to the natural products, but also through our food research, we study how to improve the food to provide health with infinite possibilities.
We will try our best to balance the taste and nutrition.
SEABUCKTHORN
Seabuckthorn for medicinal plants. Seabuckthorn roots, stems, leaves, flowers, fruit, especially seabuckthorn fruit is rich in nutrients and biological active substances, can be widely used for food, medicine, light workers, aerospace, agriculture and fish Industry and many others. We have 2 million acres of seabuckthorn farm in Xinjiang, China. The unique geographical condition of Xinjiang cultivates the best quality seabuckthorn. The R & D Department in North America, research and develop seabuckthorn for the health food and beauty products.
Seabuckthorn fruit nutrient-rich, the fruit contains a variety of vitamins, fatty acids, trace elements, linenin, seabuckthorn flavonoids, superoxide and other active substances and a variety of amino acids needed by the human body. The vitamin C content is extremely high, for every 100 grams of fruit juice, vitamin C content can reach 825-1100 mg, is 2-3 times the kiwi, known as king of vitamin C fruit.
Seabuckthorn oil contains 206 kinds of substances those are beneficial for the human body, of which there are 46 kinds of bioactive substances, containing a large number of vitamin E, Vitamin A, flavonoids, etc., it can be anti-fatigue and enhance the body's vitality, anti-cancer and other special pharmacological properties, It also protects and accelerates the repair of gastric mucosa, increases intestinal Bifidobacterium drug resistance, reduces the plasma cholesterol in the blood vessel, prevent dyslipidemia and atherosclerosis; and promote the wound healing.
Organic Sprouting Powder – Supply, Purchase and Service
Vertical Integration – "From Seed to Sprout to Powder," Packaged Immediately after Drying and Milling
Controlled Hydroponic Process
Clean Label
Organic
Vegan
High in plant based Protein
Black Tuscan Kale has shown high levels of cancer fighting Sulforaphane.
Sprout powders contain some of the highest levels of plant protein per serving.
The sprouting process releases an explosion of nutrients that would otherwise be unavailable for absorption.
Sprouting increases the bioavailability of protein, vitamins and minerals.
A rich source of vitamins A, B, C, E, K, and amino acids.
Company Website: www. jubilant-flame .com
Sincerely,
DISCLAIMER
THIS WEBSITE/NEWSLETTER IS A WHOLLY OWNED SUBSIDIARY OF ONE22 MEDIA, LLC, HEREIN REFERRED TO AS O22, LLC
THE DISCLAIMER IS TO BE READ AND FULLY UNDERSTOOD BEFORE USING OUR SERVICES, JOINING OUR SITE OR OUR EMAIL/BLOG LIST AS WELL AS ANY SOCIAL NETWORKING PLATFORMS WE MAY USE.
OUR REPORTS/RELEASES ARE A COMMERCIAL ADVERTISEMENT AND ARE FOR GENERAL INFORMATION PURPOSES ONLY. WE ARE ENGAGED IN THE BUSINESS OF MARKETING AND ADVERTISING COMPANIES FOR MONETARY COMPENSATION.  WE HAVE NOT BEEN COMPENSATED FOR THIS EMAIL REGARDING JFIL AND DO NOT EXPECT TO BE COMPENSATED IN THE FUTURE.  NEVER INVEST IN ANY STOCK FEATURED ON OUR SITE OR EMAILS UNLESS YOU CAN AFFORD TO LOSE YOUR ENTIRE INVESTMENT. PLEASE NOTE WELL: O22 LLC AND ITS EMPLOYEES ARE NOT A REGISTERED INVESTMENT ADVISOR, BROKER DEALER OR A MEMBER OF ANY ASSOCIATION FOR OTHER RESEARCH PROVIDERS IN ANY JURISDICTION WHATSOEVER.RELEASE OF LIABILITY: THROUGH USE OF THIS WEBSITE VIEWING OR USING YOU AGREE TO HOLD O22, LLC, ITS OPERATORS OWNERS AND EMPLOYEES HARMLESS AND TO COMPLETELY RELEASE THEM FROM ANY AND ALL LIABILITY DUE TO ANY AND ALL LOSS (MONETARY OR OTHERWISE), DAMAGE (MONETARY OR OTHERWISE), OR INJURY (MONETARY OR OTHERWISE) THAT YOU MAY INCUR. THE INFORMATION CONTAINED HEREIN IS BASED ON SOURCES WHICH WE BELIEVE TO BE RELIABLE BUT IS NOT GUARANTEED BY US AS BEING ACCURATE AND DOES NOT PURPORT TO BE A COMPLETE STATEMENT OR SUMMARY OF THE AVAILABLE DATA. O22 LLC ENCOURAGES READERS AND INVESTORS TO SUPPLEMENT THE INFORMATION IN THESE REPORTS WITH INDEPENDENT RESEARCH AND OTHER PROFESSIONAL ADVICE. ALL INFORMATION ON FEATURED COMPANIES IS PROVIDED BY THE COMPANIES PROFILED, OR IS AVAILABLE FROM PUBLIC SOURCES AND O22, LLC MAKES NO REPRESENTATIONS, WARRANTIES OR GUARANTEES AS TO THE ACCURACY OR COMPLETENESS OF THE DISCLOSURE BY THE PROFILED COMPANIES. NONE OF THE MATERIALS OR ADVERTISEMENTS HEREIN CONSTITUTE OFFERS OR SOLICITATIONS TO PURCHASE OR SELL SECURITIES OF THE COMPANIES PROFILED HEREIN AND ANY DECISION TO INVEST IN ANY SUCH COMPANY OR OTHER FINANCIAL DECISIONS SHOULD NOT BE MADE BASED UPON THE INFORMATION PROVIDED HEREIN. INSTEAD O22, LLC STRONGLY URGES YOU CONDUCT A COMPLETE AND INDEPENDENT INVESTIGATION OF THE RESPECTIVE COMPANIES AND CONSIDERATION OF ALL PERTINENT RISKS. READERS ARE ADVISED TO REVIEW SEC PERIODIC REPORTS: FORMS 10-Q, 10K, FORM 8-K, INSIDER REPORTS, FORMS 3, 4, 5 SCHEDULE 13D.O22, LLC IS COMPLIANT WITH THE CAN SPAM ACT OF 2003. O22, LLC DOES NOT OFFER SUCH ADVICE OR ANALYSIS, ANDO22, LLC FURTHER URGES YOU TO CONSULT YOUR OWN INDEPENDENT TAX, BUSINESS, FINANCIAL AND INVESTMENT ADVISORS. INVESTING IN MICRO-CAP AND GROWTH SECURITIES IS HIGHLY SPECULATIVE AND CARRIES AND EXTREMELY HIGH DEGREE OF RISK. IT IS POSSIBLE THAT AN INVESTORS INVESTMENT MAY BE LOST OR IMPAIRED DUE TO THE SPECULATIVE NATURE OF THE COMPANIES PROFILED.THE PRIVATE SECURITIES LITIGATION REFORM ACT OF 1995 PROVIDES INVESTORS A SAFE HARBOR IN REGARD TO FORWARD-LOOKING STATEMENTS. ANY STATEMENTS THAT EXPRESS OR INVOLVE DISCUSSIONS WITH RESPECT TO PREDICTIONS, EXPECTATIONS, BELIEFS, PLANS, PROJECTIONS, OBJECTIVES, GOALS, ASSUMPTIONS OR FUTURE EVENTS OR PERFORMANCE ARE NOT STATEMENTS OF HISTORICAL FACT MAY BE FORWARD LOOKING STATEMENTS. FORWARD LOOKING STATEMENTS ARE BASED ON EXPECTATIONS, ESTIMATES, AND PROJECTIONS AT THE TIME THE STATEMENTS ARE MADE THAT INVOLVE A NUMBER OF RISKS AND UNCERTAINTIES WHICH COULD CAUSE ACTUAL RESULTS OR EVENTS TO DIFFER MATERIALLY FROM THOSE PRESENTLY ANTICIPATED. FORWARD LOOKING STATEMENTS IN THIS ACTION MAY BE IDENTIFIED THROUGH USE OF WORDS SUCH AS PROJECTS, FORESEE, EXPECTS, WILL, ANTICIPATES, ESTIMATES, BELIEVES, UNDERSTANDS, OR THAT BY STATEMENTS INDICATING CERTAIN ACTIONS & QUOTE; MAY, COULD, OR MIGHT OCCUR. UNDERSTAND THERE IS NO GUARANTEE PAST PERFORMANCE WILL BE INDICATIVE OF FUTURE RESULTS.IN PREPARING THIS PUBLICATION,O22, LLC HAS RELIED UPON INFORMATION SUPPLIED BY ITS CUSTOMERS, PUBLICLY AVAILABLE INFORMATION AND PRESS RELEASES WHICH IT BELIEVES TO BE RELIABLE; HOWEVER, SUCH RELIABILITY CANNOT BE GUARANTEED. INVESTORS SHOULD NOT RELY ON THE INFORMATION CONTAINED IN THIS WEBSITE. RATHER, INVESTORS SHOULD USE THE INFORMATION CONTAINED IN THIS WEBSITE AS A STARTING POINT FOR DOING ADDITIONAL INDEPENDENT RESEARCH ON THE FEATURED COMPANIES. THE ADVERTISEMENTS IN THIS WEBSITE ARE BELIEVED TO BE RELIABLE, HOWEVER, O22, LLC AND ITS OWNERS, AFFILIATES, SUBSIDIARIES, OFFICERS, DIRECTORS, REPRESENTATIVES AND AGENTS DISCLAIM ANY LIABILITY AS TO THE COMPLETENESS OR ACCURACY OF THE INFORMATION CONTAINED IN ANY ADVERTISEMENT AND FOR ANY OMISSIONS OF MATERIALS FACTS FROM SUCH ADVERTISEMENT. O22, LLC IS NOT RESPONSIBLE FOR ANY CLAIMS MADE BY THE COMPANIES ADVERTISED HEREIN, NOR IS O22, LLC RESPONSIBLE FOR ANY OTHER PROMOTIONAL FIRM, ITS PROGRAM OR ITS STRUCTURE. 022, LLC IS NOT AFFILIATED WITH ANY EXCHANGE, ELECTRONIC QUOTATION SYSTEM, THE SECURITIES EXCHANGE COMMISSION OR FINRA.